Conyers Flower Shop will be closed 12/24/22 thru 1/2/2023 for the week. That is Christmas Eve thru the day after New Years. You may email us at conyersflorist@gmail.com with any questions. Thanks & have a safe Holiday Season.
Salute to Our Soldiers Blanket/Throw
Item #
SALUTE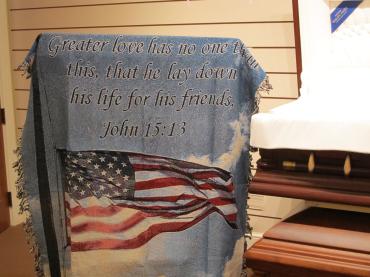 "Greater love has no one than this, that he lay down his life for his friends". John 15:13. A final Salute to those who defended the USA and their families. A Throw that will be cherished forever.
Price as shown $60.00, the throw willl be displayed on a stand for viewings/funerals/memorial services. Fresh or silk flowers can be added across the top for a starting price of $100.00. We suggest silk flowers due to the possibility of water dripping onto the Blanket.