PLEASE CALL OUR SHOP @ 770-483-4925 IF ORDERING ROSES FOR VALENTINE'S. OUR ROSE PRICES WILL BE GOING UP ON FEB 1. Thanks for allowing Conyers Flower Shop to serve your floral needs.
Salute to Our Soldiers Blanket/Throw
Item #
SALUTE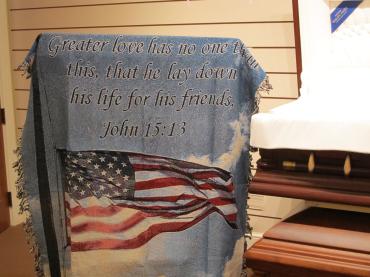 "Greater love has no one than this, that he lay down his life for his friends". John 15:13. A final Salute to those who defended the USA and their families. A Throw that will be cherished forever.
Price as shown $60.00, the throw willl be displayed on a stand for viewings/funerals/memorial services. Fresh or silk flowers can be added across the top for a starting price of $100.00. We suggest silk flowers due to the possibility of water dripping onto the Blanket.